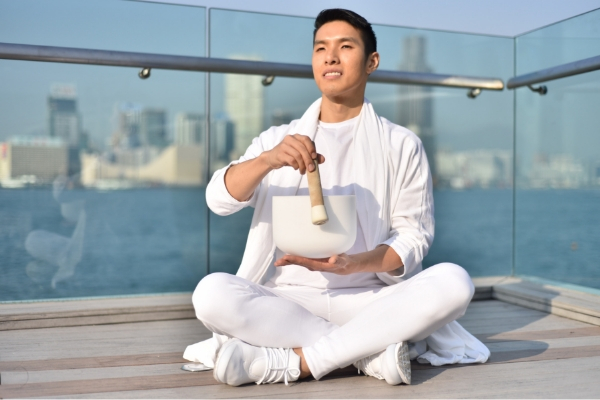 Mind Body Sound Healing Retreat
Event Type: Retreat
Date & Time: 19-21 APR
Address: 18 Haiwan Xincheng, Shimen District, 253 New Taipei City
Price: USD$650
Book Now
Sound has been a sacred form of healing in indigenous cultures around the world since the beginning of time. Myths of these cultures claim that the universe began with one sound from which the whole universe emanates. Join us for a weekend retreat to explore how our mind and body resonates with the frequency and vibration of sound, and how we can use this energy to help us release, relax, and restore back to our natural state of being.
Malbert Lee is yoga and sound meditation coach from Hong Kong. He travels all over the world and found that yoga and sound help him to stay healthy and grounded. He has undertaken over 700 hours of yoga teacher training courses under Tara Stiles, Mike Taylor and Allison Eaton.
In New York, he discovered sound meditation — a transformational mindfulness practice through sound vibration. He was trained by Grand gong master Don Conreaux, gong masters Jens Zygar Martha Collard, Mark Swan, Aidan McIntyre (who is both a gong and singing bowl master) and singing bowl master Santa Shakya.
Malbert's retreat provides a unique and personal mindfulness experience that improves people's mind and body wellness through sound healing with the gong and singing bowls. He encourages people to explore and unleash their full potential using natural movement, breath and mindfulness. He believes life should be fun and enjoyable, so does yoga and sound healing
Your Weekend Retreat Include:
* Daily Sound Healing Yoga & Meditation
* 1x Tibetan Singing Bowls Fundamental Intensive Workshop
* 1x Private Local Excursion
* 1x Luxury Hot Spring Visit in the Mountain
* Metta Loving Kindness Energy Circle
* Ocean Therapy & Nature Walks
* Gourmet Vegetarian Meals
* Raw Vegan Desserts & Homemade Kombucha
* 2 Nights Ocean View Shared Accommodation (Extra Charge for Private Room)
All Inclusive Package Price:
US$650 or NT$20,100 Per Person for Shared Accommodation (Extra for Private Accommodation)
Pricing includes 7% Good Karma donation to the local charity
RSVP:
Direct message, e-mail or visit our website to sign up.
http://www.originyogawellness.com/mind-body-sound-healing-retreat.html
Upcoming Events
If you have any query, feel free to contact
Contact Me