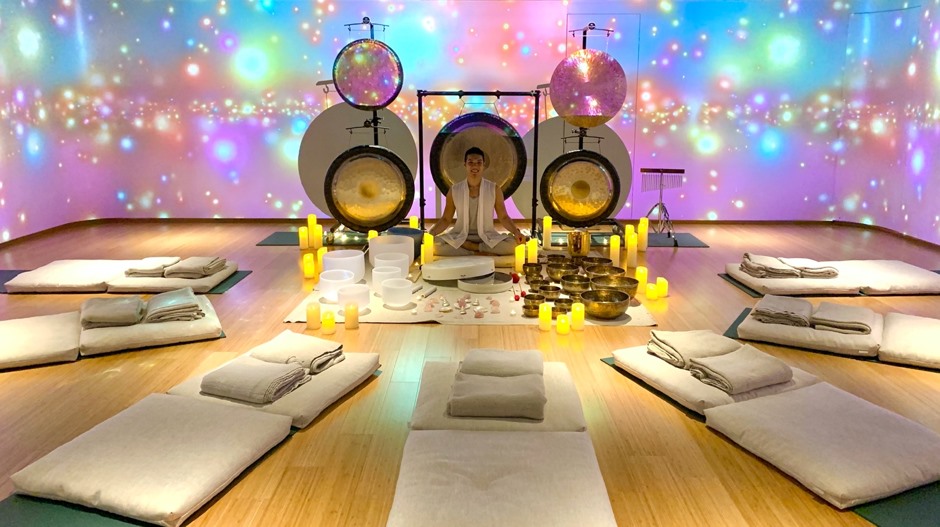 Sweetness Of Life Sound Journey
Event Type: Events
Date & Time: Sat, 1 Feb 5-7pm
Address: Level 13A, Times Square, 1 Matheson Street, Causeway Bay, Hong Kong.
Saturday, 1 February 2020. 5-7pm / 5-8pm with Dinner
Fivelements Habitat sacred artist Malbert Lee will teach us how to use a tuning fork to assist a therapeutic self-care session and heart-warming meditation. We will also immerse ourselves in a transformational vibratory Sound Journey field of multiple gongs and singing bowls. Marrying yin and yang vibrations, our energetic bodies are balanced and brought back into a harmonious state. We will end with a "Sweetness of Life" meditation, and chocolate tasting and takeaway created by our Culinary Curator, Arnaud Hauchon, to nourish our mind and body with the richness of love and happiness.
Event Only: $600 per Guest | $540 per Friend of Fivelements
Event with plant-based Buffet Dinner at Sakti Elixir: $830 per Guest | $747 per Friend of Fivelements
Early-Bird ends 15 January: 10% Savings per Guest | 20% Savings per Friend of Fivelements
「甜蜜人生音頻旅程」和音叉工作坊 與導師 Malbert Lee
2月1號 星期六 5-7pm | 5-8pm(配晚餐)
Fivelements 的修行藝術導師 Malbert Lee 會教大家如何使用音叉進行正念療法和冥想,滋養我們的靈魂。我們會一起踏上讓你徹底改觀的銅鑼及水晶頌缽音頻之旅!陰陽聲頻會重新幫你提升內在平衡。
好的當然是留到最後!Malbert在帶領大家進入甜蜜人生冥想後,會和你一同品嚐 Sakti Elixir 主廚 Arnaud Hauchon 親自做的外帶巧克力。今個2月,讓愛和喜悅滋養身心吧!
價錢:每位$600 | Fivelements 之友$540
價錢(配Sakti Elixir植物膳食晚餐):每位$830 | Fivelements 之友$747
*早鳥優惠 1月15號截止:每位可享9折優惠 | Fivelements 之友可享8折優惠
Upcoming Events
If you have any query, feel free to contact
Contact Me