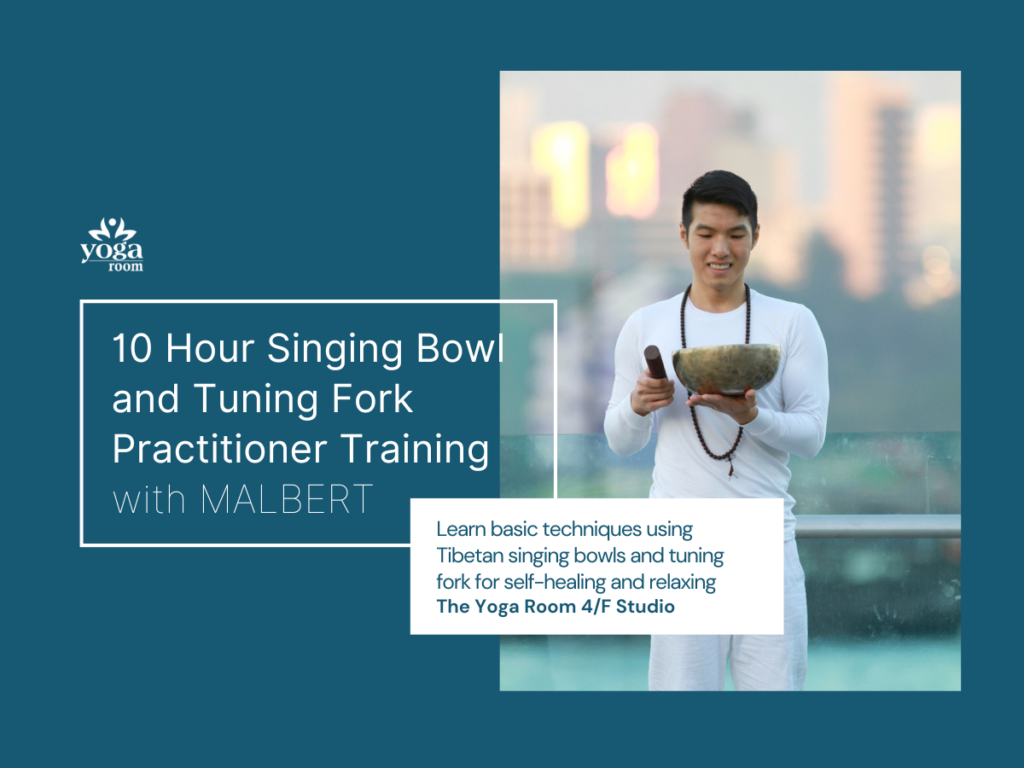 10 Hours Singing Bowl & Tuning Fork practitioner training
Event Type: Training workshop
Date & Time: Sat - Sun, 17-18 Sept 1:30pm-6:30pm
Address: The Yoga Room, Xiu Ping Commercial Building, 104 Jervois Street, Sheung Wan, Hong Kong
Price: $4000
Learn basic techniques using Tibetan singing bowls and tuning fork for self-healing and relaxing with Malbert Lee, Hong Kong's leading sound experience facilitator
SCHEDULE:
SEPTEMBER
Sept 17 1.30 to 6:30pm
Sept 18 1.30 to 6:30pm
OCTOBER
October 15 1.30 to 6:30pm
October 16 1.30 to 6:30pm
Venue: The Yoga Room, Sheung Wan
---
𝘛𝘩𝘪𝘴 𝘸𝘰𝘳𝘬𝘴𝘩𝘰𝘱 𝘪𝘴 𝘴𝘶𝘪𝘵𝘢𝘣𝘭𝘦 𝘧𝘰𝘳 𝘱𝘳𝘢𝘤𝘵𝘪𝘵𝘪𝘰𝘯𝘦𝘳𝘴 𝘰𝘧 𝘢𝘭𝘭 𝘭𝘦𝘷𝘦𝘭𝘴 𝘸𝘪𝘵𝘩 𝘯𝘰 𝘱𝘳𝘪𝘰𝘳 𝘦𝘹𝘱𝘦𝘳𝘪𝘦𝘯𝘤𝘦 𝘳𝘦𝘲𝘶𝘪𝘳𝘦𝘥.
This workshop is designed for people who want to be a Himalayan singing bowl and tuning fork practitioner equipped with practical and efficient techniques.
Malbert is an experienced sound meditation teacher. He will teach you his unique approach to self-healing, how to use sound to relax and create therapeutic self-care and 1-on-1 experiences with interactive exercises.
This workshop will enhance your skill and confidence to use these transformational sacred healing tools for yourself, family, friends and clients.
What you will learn from this intensive workshop:
How Sound Healing works

Brief history and different types of singing bowls

Different ways to hold a singing bowl

Various types of mallets for different functions

Basic and advanced techniques to make the bowl sing and optimise its vibration

How to use singing bowls for meditation and calm the mind

One-bowl technique to balance chakras

Use of tuning fork for self-cleansing, calming and mood-elevating,

Use of tuning fork for self-massage to treat headaches, sinus, body aches and release muscle tension

How to use the singing bowl for space purifying

How to choose a singing bowl

How to take care of singing bowls

Using singing bowl for better sleep

One bowl technique to strengthen the aura

How to offer 1-on-1 singing bowls and tuning fork therapeutic relaxation experience that includes:

One bowl technique for cleansing and protection

One bowl therapy for balancing, muscle tension release and pain relief.

Two bowls therapy for back pain, rejuvenation and relaxation

Tuning fork total-body calming and balancing therapy

Design a therapy session for the client's needs

Use of other instruments to enhance the therapy experience
---
Price:
Full training HK$4,000 (Regular Price)
HK$3,600 (Early Bird valid up to 1 month before 1st session)
*Class size limited to ensure optimum learning experience including 1-on-1 guidance.

WHAT TO BRING:
Comfortable clothes and water
*You will receive a certificate at the end of the workshop
*Singing bowls & tuning forks will be available during class and can be purchased at the end of the course
*Special requests can also be made for private training (1-3 people)
---
Upcoming Events
If you have any query, feel free to contact
Contact Me